"She Sells Seashells by the Seashore..."
Six participants ages ten and up met two Saturdays in a row to have fun, enhance their drawing abilities, strengthen their observational skills, and improve their perspective, shading and blending techniques using watercolor pencils and watercolor paints. Their muse was... you guessed it! Seashells. The technical term "seashell" usually refers to an exoskeleton of an invertebrate (an animal without a backbone) but is often thought of as the love letter of the sand, a continuing source of inspiration and reminder of the precious ocean. Every seashell has a story, and the students allowed for this exquisite nature to come alive on paper.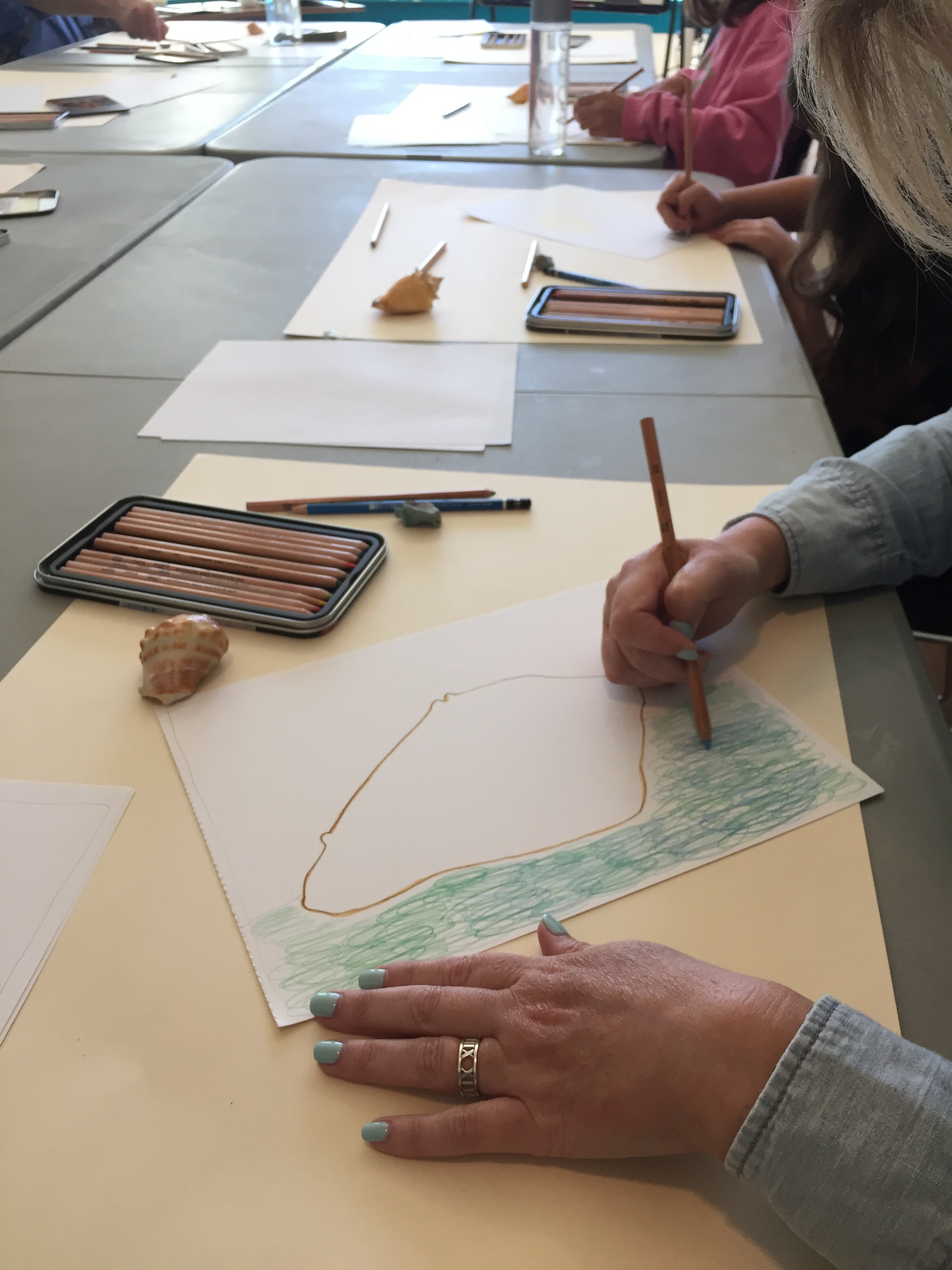 A fun fact about the instructor Marie Gilmore is that her closet is overflowing with costumes because she was a drawing model for thirty years. She now works at an adult school and as a mentor for at-risk youth in Salinas. Marie collected many of the shells for the class from her backyard. Her guiding voice brought the shells to life; students felt the textured shells, noted their shapes, and got to know their background. Colors ranged from the complicated--the abalone shell--to the simpler--the sand-dollar. The smell of pencils drifted through the room on the first day as the students focused on the shells' outline. The second Saturday, watercolor paints spread upon the Bristol papers. Soft and soothing instrumental music eased the flow of the brush strokes and hues of blue, turquoise and pinks leaped out from the table. Although the shading seemed difficult to conquer, Marie used metaphors to describe the watercolor brush strokes: "Think of carrying a big pan of water and how it wants to splash and move around... use more water and get sloppy with it." Her continuous positive feedback added some calming security to the complexity of the colors. The students' spiraling shading and vibrant artwork evolved beautifully throughout the class; some wished they had another day allocated to this theme.
Comments shared after the class were "It was fun and engaging" and "I look very forward to taking more classes in art and gaining a deeper understanding!" We look forward to many more of Marie Gilmore's classes at the Lyceum in the future!