This post was written by a student volunteer: H. Black
On Saturday May 13th , the Lyceum hosted the 8th Annual Middle School Model UN conference at the Middlebury Institute of International Studies (MIIS). There were 7 schools present, each student representing his/her own country. The three councils were the General Assembly, the Security Council, and the Economic and Social Council (ECOSOC). The General Assembly discussed the Prevention of an Arms Race to Space. The Security Council discussed the Situation in North Korea. ECOSOC discussed the Empowerment of Rural Women and their Role in Poverty and Hunger Eradication.
Orange juice and muffins were served at registration, as the semi-nervous middle schoolers dressed in professional business attire waited for the opening ceremony to start. The Opening Ceremony featured guest speaker Masako Toki, who addressed students on the importance of Nuclear Non-Proliferation.
Following the Opening Ceremony, students were escorted to classrooms for each respective council. Once in the classrooms, the respective council began debating. In ECOSOC in particular, the draft resolution was written very soon after they started, but it took them a while to come to terms with certain countries. *ahem* Russia *ahem*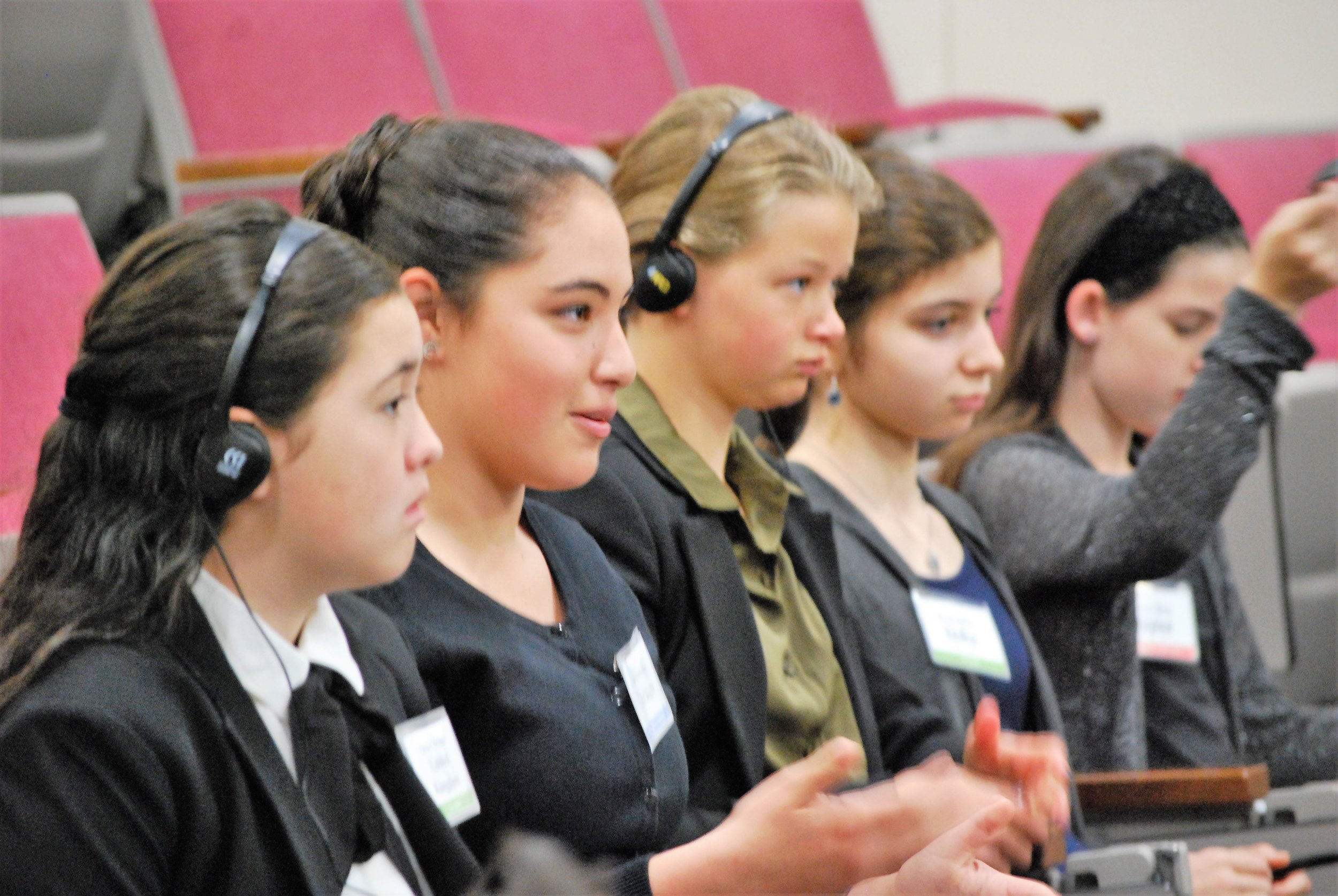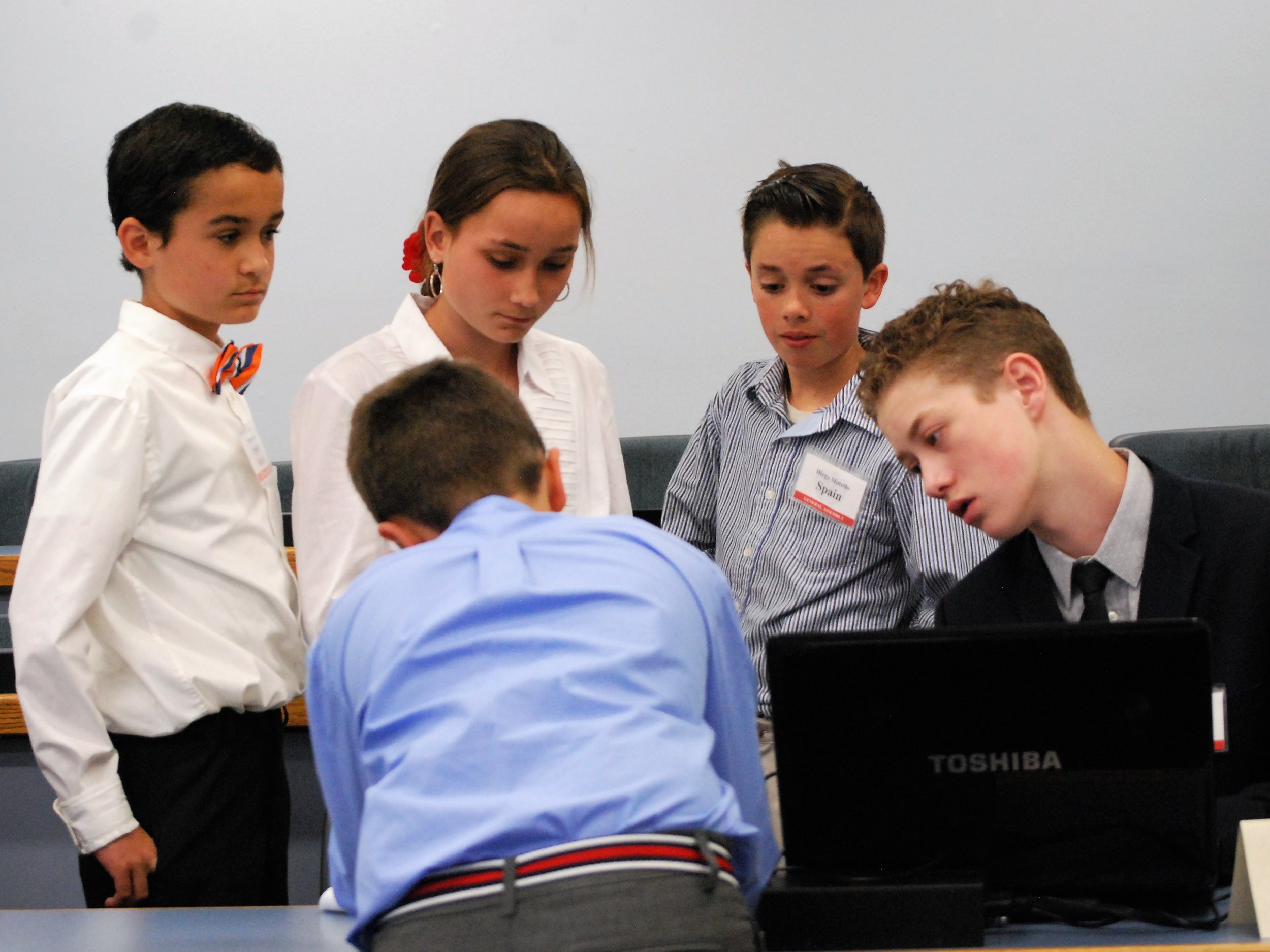 In the General Assembly, they started discussing terms for a cleanup of space debris. Ironically, the Security Council did not actually have North or South Korea in their council, so they brought in North and South Korea from General Assembly, and ruthlessly interrogated them. North Korea admitted that if a country tried to attack North Korea, they would "destroy that country." Although the student representatives for North and South Korea had been researching a completely different topic, they performed admirably under fire.
After the ruthless interrogation, all of the councils traipsed to the Holland Courtyard, where they had lunch. Lunch was crescent rolls with ham and lettuce, with a side of chips and a cookie. After lunch, the councils went back to their classrooms, and finished their resolutions, or most of them. Although General Assembly finished their resolution early, the delegates from China opposed the resolution at the last minute after being sponsors the whole time leading up to the vote.
General Assembly then postponed their resolution, and came up with a new topic, "What would Happen if China were to Go to War with France." The delegates from General Assembly got a kick out of it, and even started introducing Star Wars themes. After they finished their topic, they tweaked the resolution a little bit, and then went to the Irvine Auditorium for the closing ceremony.
At the end of the conference, all the councils went into the Irvine Auditorium, where the press conference and awards ceremony would be held. There were two representatives voted to represent each council: Lizette Mendez and Josie Ertl from Security Council, Colette Gsell and Kate Judy from ECOSOC, and Zachary Bridges and Delaney Horner from General Assembly. The Moderator, Ashley Gora, introduced each representative, and asked them about the conference. One of the most memorable moments was when the representative from China, Josi Ertl, uttered her now famous quote in response to being asked what she would do if North Korea were to attack China: "If North Korea has a death wish, then by all means, blow us up!" She got an ear-splitting applause for that.
After the press conference, the awards ceremony was held. From ECOSOC, Outstanding Delegate was awarded to Cassandra Brent-Nurse and Colette Gsell (Brazil), Maram Gasmelseed (Saudi Arabia), and Teagan Lopez-Schrammel (Switzerland). Best Position Paper was awarded to Kate Judy (Pakistan) and Luci Cole (Guyana).
From Security Council, Outstanding Delegate was awarded to Quinn Karm and Tanner Downing-McAdams (Sweden), Ella Greenshields and Lizette Mendez (Japan), Lillian Robnett (Uruguay), and Isabella Requiro (Ukraine). Best Position Paper was awarded to Quinn Karm and Tanner Downing-McAdams (Sweden) and Josi Ertl and Ella Ruvalcaba (China).
From General Assembly, Outstanding Delegate was awarded to Delaney Horner (France), Sam and Sophia Catania (Cambodia), and Zachary Bridges and Alex de Marignac (China). Best Position Paper was awarded to Delaney Horner (France) and W. Black (Japan).
Thank you to all those who participated, those who supported the Lyceum and to the proud parents! We hope to see you again next year.